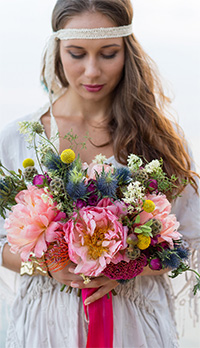 Summer loving
Q. We've just started planning our festival-themed wedding for next summer but we're not sure where to start. Do you have any suggestions on how we can make our idea come to life?
A. Katherine Appleby says: A festival-themed wedding is a fantastic idea and if done well will create an engaging, fun-filled day for you and your guests.

- Firstly it's important you think about why you've chosen this particular theme. By understanding your own expectations and priorities you'll be in a much better position to start planning.

- Use Pinterest and Instagram to create online moodboards where you can gather all your ideas.

- Make a physical moodboard with pictures, flyers and articles that you find inspirational.

- It can be daunting making decisions so we suggest you get all your friends and family together for a planning session. Go through your ideas and ask them to help you make a final decision.

- If you're finding the experience overwhelming then try contacting a wedding planner for some advice.