Ask the experts
Here is a selection of Q&As from Your North West Wedding magazine. If you would like your question answered by our experts, please email it to editor@yournorthwest.wedding.
To view more Q&A's on a different topic, please select one from the list below.
Hot topic: Wedding worries
Our experts solve your problems
---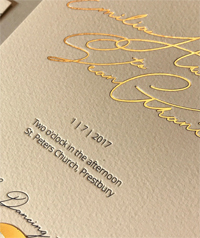 The paper chase
Q. I'd never realised there was so much to think of in terms of stationery. What needs to be sent out and when, what do the different printing techniques mean and how can I keep within my budget?
A. Claire McDivitt says: Sending out stationery

- Most couples choose to send out save-the-date cards. I suggest you send these out as soon as you've booked your venue so it gives your guests time to figure out whether or not they can attend.

- A few months later you should begin sending out your wedding invitations. It's often a good idea to include an information card regarding nearby hotels and transport options. This is always useful and your guests will appreciate not having to find it out themselves. Additionally you could include an rsvp card, these are handy if you want to get more information from your guests such as food or music preferences.

Printing techniques

- There are a lot of different printing techniques to choose from, which is great for people wanting to cut down on costs or have a particular style in mind.

- Here at Lost Heritage, we specialise in hot foiling and letterpress, the majority of people know foiling as the glossy, shiny look that's popular with gold, silver and copper colour schemes. Letterpress is a special printing technique that has become increasingly popular, it creates a deboss effect and is ink-based.

- Another method is digital printing, this is a modern technique that's more cost-effective. Keeping down the costs

- I'd advise you decide on a budget and try and stick to it. A good method would be to spend a little extra on the main invitations and then use a cheaper printing method for the information cards.
---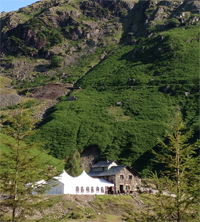 A good place to start
Q. We're just starting out on our big-day journey and neither of us have a clue what we should look for when booking a venue. Can you help?
A. Rebecca Forsman says: Booking your wedding venue is one of the biggest decisions you'll make during the planning process, here are my top tips to help you find the perfect space.

- Location is key – it's important that you ask yourself, are you looking to get married locally or is there somewhere further afield that holds significance to your relationship? What are the logistics of getting to and from it? Is there any accommodation nearby? To help you answer these questions do some research to try and narrow down your options. It's also worth contacting your local registrar's office as it will hold details of all the locally licensed venues.

- Talk money – this is really important, before setting off to view any spaces, work out a realistic budget and keep it in mind.

- What's your theme? – each wedding is unique, however, you have to think what style does your dream day fit into? Is it traditional, contemporary, rustic or even bohemian? Keep this in mind when considering venues and ask yourself will it work for your big day?

- Be inquisitive – ask as many questions as you can leading up to and during your viewing. This is your special day and it's important you leave nothing to chance. What is included in their offer? If you're unsure then simply ask, always take a notepad with you so you can jot down key points, these will come in useful should you be torn between two similar spaces.

- Visit it more than once – before confirming make sure that you have all of the information you need to hand. First impressions count, however there is nothing wrong with asking to view it again just to be sure you've found the one!
---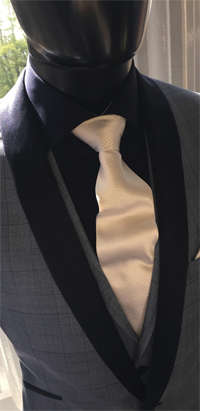 Perfect fit
Q. My fashion-forward groom wants to look on-trend on the big day – what do you suggest?
A. Ryan Collins says: On-trend is such a difficult concept to achieve as trends are so diverse and are constantly changing. I think the most important thing to establish is the theme of your wedding, once you've decided on the details like the venue and colour scheme you will find it easier to narrow down your options.

There are so many outfits to choose from such as country tweed with a quintessential bow tie or an elegant tux.

In my experience, ordering a made-to-measure suit is the best option. It's the finer details like the fit and colour that you want to get right and with this choice you can design the suit exactly how you want without compromising. Not only will the groom look great but he will stand out in those all-important photographs.
---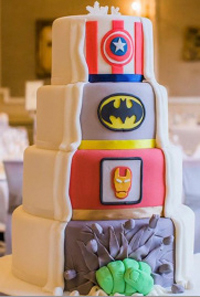 The sweetest things
Q. My hubby-to-be wants to incorporate his love of cars into our wedding cake whereas I want a more traditional design. Do you have any suggestions of how we can include both our personalities?
A. Rebecca Beer says: Here are my top tips:

- I'd suggest you order a traditional bake and incorporate your hubbyto- be's love of cars with a fabulous cake topper. You could include figurerines of you both inside the car with a sweet 'just married' number plate.

- Alternatively, you could opt for a half and half cake. One side could be traditional, decorated with embellishments in your chosen colour scheme while the other side could have hidden motifs such as a car and race track or finishing line.

- If you trust your supplier I'd suggest you give them free rein to create their own vision.

- My idea would be to decorate the bake with a world map, with a car travelling to places you and your fiancée have visited together.
---
Contact our experts...

Claire McDivitt
Stationer

Rebecca Beer
Cake maker

Rebecca Forsman
Marketing Manager

Ryan Collins
Menswear
---