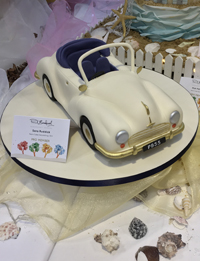 Just one slice
Q. I want my wedding cake to look impressive without it costing a small fortune and wondered if you could give me some tips on how to keep the cost down?
A. Sara Ruddick says: It's very easy to spend hundreds of pounds on the cake of your dreams so here are my top tips on keeping the cost down.

Less is more
- Choose a one or two-tiered creation and decorate it with clean lines. You could even incorporate sugar flowers and foliage to make it look more expensive.
- If you're worried it's too small then ask your supplier for a kitchen cake in the same flavour, depth and icing.

Double value
- Another option is to purchase a small one-tier bake and surrounding it with iced cupcakes and biscuits.
- Think carefully about when you're planning on presenting it to your guests. You could serve it as your dessert or if you're giving it to your loved ones later in the evening you could opt for small portions to help save money.

Cake styles
- Naked, semi-naked and buttercream cakes are all very popular and are more cost-effective as less icing and time is required.
- There are lots of metallic products that your supplier can incorporate into big-day bake to give it the wow factor.
- You can also purchase reasonably priced toppers to add a personal touch.