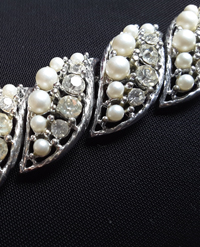 Dressed to impress
Q. We're having a January wedding and I want to incorporate the season into my jewellery. Do you have any suggestions?
A. Tabitha Sims says: I'd suggest you focus on sourcing mid-century designers such as Weiss, Coro and Trifari. Try and include winter colour pallets into your jewellery choices to provide a touch of elegance and sophistication.

Colours
- Silvers, pearls and crystals provide a smart accent that will contrast with almost any outfit.

- Matte golds will create a bolder look and when paired with a cool white it can look stunning.

Design and forms
- Natural shapes such as snowberries, stars and snowflakes all convey the feeling of winter.

- Textured metal finishes echo different frosted surfaces and add another dimension to the overall seasonal effect.

Purchasing your jewellery
- Given time, reputable dealers will source items for you and usually carry a good selection to give you some inspiration.

- Costs can vary from piece to piece depending on where they were designed. The advantage of choosing jewellery from this era is that the pieces are usually hand-set with high quality jewels.