New Issue OUT NOW

Cover image provided by Mick Cookson Photography, www.mickcooksonphotography.co.uk

Wonderful world of weddings
Wedspiration from around the UK


Scent-sational
Impress your guests and wow your man with a fabulous bridal fragrance


Hot off the press
All the latest news and products for men


The last word
Hair legends Fish Soho London advise grooms on big-day styling


Best dressed
It's time to learn the art of compromise as Rachel searches for the perfect gowns for her best girls


Seasonal sparkle
Say 'I do' in a venue with festive appeal


Monochrome magic
Colour your day with brilliant black or wonderful white accents


Spotlight on... Cheshire
Get married in a stunning local setting


Home sweet home
We travel to London, Oxford and Wales to track down three luxurious UK hotels


Snow globe
Cosy up to your loved one on one of these cool winter breaks


Plus...
Regular features, news, events, Q&A special - and much more
Next Issue Out
30th January, 2015


Festive chic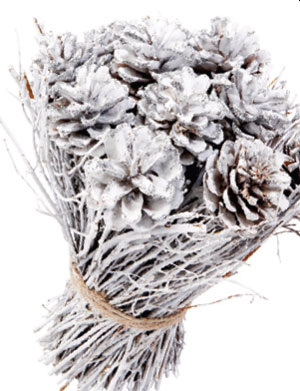 Twinkling lights and a sprinkling of snowflakes will set the scene for your winter wonderland wedding

Bloomin' freezing
Frosty flora is the perfect seasonal substitute for flamboyant bridal flowers – great to line the aisle and decorate your reception venue. This arrangement is £7.50 from

www.tesco.com

Turn to page 29 of the current issue for more winter wedding inspiration.

Seasonal sparkle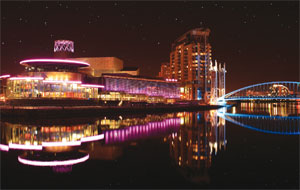 The Lowry, Salford Quays

The Lowry is a distinctive and vibrant multi-purpose arts and entertainment centre located in Salford Quays. This is the ideal setting for those on the hunt for a winter wedding with a difference, the building is contemporary in style with both the dramatic interior and surrounding waterways providing ample photo opportunities. Festive celebrations won't come more chic than this.

The Hexagon Room can host 100 guests for the ceremony and is accessed by its own internal bridge, while the showstopping Compass Room can host 150 for a spectacular ceremony. Situated on the fourth floor of the building and with its own private balcony, the room has floor-to-ceiling windows providing a stunning vista. Why not place a Christmas tree here to draw all eyes to the breathtaking views while creating a festive atmosphere? This is also the location for the evening celebrations for up to 200 loved ones.

Did you know?As a special gift the venue offers all brides and grooms Friend of The Lowry membership for a year, which will give you special benefits, including priority booking.

Ceremony licence: Yes
Contact: 0161 876 2078
www.thelowry.com/weddings

Forthcoming Events
Please note: All dates are subject to changes, contact organisers for more information before making arrangements.
To view more events, please visit the events page on our website.
Macdonald Tickled Trout wedding Fair
Preston New Road, Preston, Lancashire, PR5 0UJ
Web: www.macdonald-hotels.co.uk
Date: Sun, 18 Jan 2015
Time: 11am - 3pm



Feeling festive

I've got a confession to make – winter's my favourite time of year. All around me, people are bemoaning the cold, the dark, the rain. I nod in agreement, but secretly I adore this season – well, perhaps not the rain. I love coming home in the dark to a warm, cosy house with a roaring fire, I love digging out my favourite jumpers, cracking out the glitzy eyeshadow and the sparkly dresses and dancing to some cheesy tunes at another festive party. My favourite thing of all about this time, though, is how romantic it is. Chilly evenings are perfect for snuggling up and a brisk walk in the cold air is even better arm-in-arm with the one you love. If I got married again (look away, husband dearest) I'd do it at Christmas, with carols instead of hymns and glittering baubles everywhere. If that's a dream come true for you too, turn to page 23 to see a fabulous selection of winter wonderland venues.

Happy planning!



Jo Fletcher-Cross, Editor
Make sure you email editor@yourmanchester
wedding.com to keep us up to date with all your news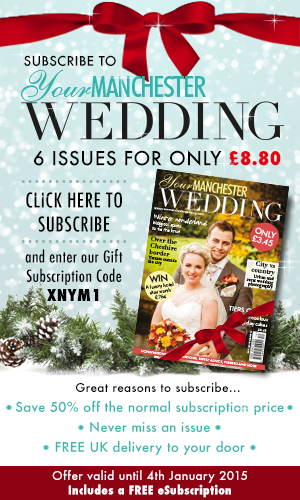 Win a luxury hotel stay worth £764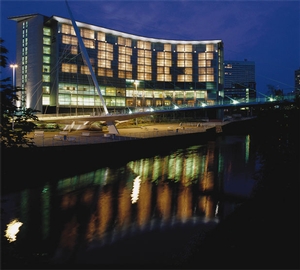 Enter now for your chance to win an overnight stay at The Lowry Hotel

When you want to escape from the hustle and bustle of meticulous wedding planning, few places can compare to The Lowry Hotel. The ultimate destination for luxury, not only has it already won over 60 awards as Manchester's first five-star hotel, it also looks stunning, boasting contemporary architecture. Sitting opposite the sails of Santiago Calatrava's equally striking Trinity Bridge, the hotel's seamless blend of style is just perfect for a city bursting with energy.

Once inside you and your partner can enjoy the stunning contemporary rooms. The combined bedrooms are dressed in a combination of neutral tones, dark wood, sleek furnishings and floor-to-ceiling windows that overlook the city skyline. Or you can opt for one of seven super chic suites; stylishly furnished and all equipped with the very latest amenities – not to mention the hotel's excellent restaurant and bar that are among the area's finest.

To find out more, visit www.thelowryhotel.com


Enter here

A cake for all seasons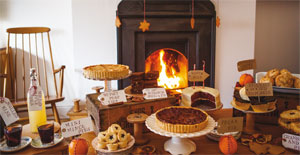 Image provided by www.dishandspoonfood.co.uk
Sweet sensations with year-round appeal

In our humble opinion a wedding's not a wedding without a cake taking centre stage; and not just any old concoction – we're talking fabulous seasonal showpieces. Whether it's a simple, home-baked style you're after, or an exotic work of art, celebrate the time of year with pastel spring shades, summer brights, rich autumnal hues or festive sparkle.

"The season in which couples tie the knot definitely influences the design of their wedding cake," says Suzanne Thorp of The Frostery, Oldham. "Winter brides often like to incorporate crystals with sugar flowers or add crystallised branches to a white cake to create a frozen, wintry feel. The metallic look also lends itself perfectly to this theme, with soft, lustered silver-covered tiers or touches of edible sliver leaf."

Turn to page 55 of the current issue to see our selection of cakes for every season.

Lip service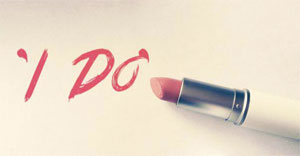 Love, Honour and Be True is a new bridal make-up brand launched earlier this year by sisters Helen and Kitty; Kitty owns her own successful beauty salons in the North West.

The collection comprises five beautiful lipstick shades that range from nude through to red, suit all skin tones, are extremely moisturising, non-bleeding and – a must-have for the big day – long lasting. The lipsticks are made in the UK and all ingredients are free from animal testing. The lipstick names are also wedding themed: Love Story, Kiss the Bride, I Do, Just Married and Blushing Bride – which we think will make them the perfect addition to your bridal make-up bag!

For more details take a peek at www.lovehonourandbetrue.com










Lovely rosy lee
Image provided by Lifeline Photography
Nicola and Jonathon's pretty tearoom wedding was a perfect celebration

Nicola and Jonathan's romance was a slow burner: they met at work seven years ago but didn't get together for another two. It was on a trip to South Africa, three years after they first started dating, that Jonathan popped the question. Jonny proposed in South Africa at a beautiful winery," says Nicola. "He spent ages finding the perfect place but it ended up being across the road from a rubbish dump – but it was too late, he was already down on one knee before he realised! It was a total surprise."

Read all about their big-day on page 31 of the current issue.

www.teresac.co.uk