Ask the experts
Here is a selection of Q&As from Your North West Wedding magazine. If you would like your question answered by our experts, please email it to editor@yournorthwest.wedding.
To view more Q&A's on a different topic, please select one from the list below.
Hot topic: Wedding worries
Our experts solve your problems
---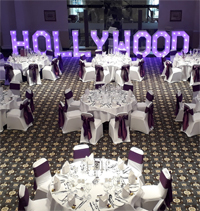 The wow factor
Q. We're having a Hollywood theme and have splashed out on our entertainment. All that's missing is a showstopping centrepiece. What do you think would make our wedding stand out?
A. Kevin Startup says: I suggest you opt for giant lettering; it's a grand way of styling your venue and it looks great in any space.

DESIGN
- It's important you choose a design that will suit your chosen theme and colour scheme. There are lots of options available including personalised letters, colours and LED lights.

CHOOSING YOUR LETTERING
- Giant letters can take up a lot of space especially if you're having more than one. Take this into consideration when ordering and make sure you have enough room inside your venue.

- Most versions are only 10" deep so they can be backed up against a wall to help you save space.

PRICE
- The cost varies between suppliers and tends to be based on the price of manufacturing. We build ours from wood, which is much easier to work with and keeps the fee down as metal can be quite expensive.

- Make sure you take transportation into consideration, if you're based locally then the delivery fee will be a lot cheaper than if you want the letters delivered over a long distance.
---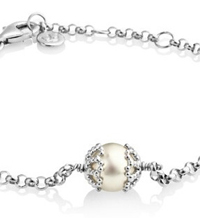 Big-day bling
Q. My wedding dress is a mermaidstyle with lots of embellishments and I'm looking for jewellery that will complement it without overpowering it. Do you have any suggestions?
A. Leanne Rogers says: Mermaid-style dresses are a great choice and a personal favourite of mine.

- If you've chosen a sweetheart neckline I suggest you go for something simple and understated. A classic pearl or diamond drop pendant paired with matching earrings is a timeless combination and something you're guaranteed to wear again.

- A high neckline can look stunning especially paired with a statement pair of earrings.

- If you're wearing a gown with pearl embellishments then you should incorporate matching jewellery, for example you could wear a pair of drop earrings or a delicate bracelet.

- Dresses that have crystals embroidery would look great paired with diamond pieces.

- For lace gowns I'd accessorise with a pair of gorgeous earrings to add a glamorous touch.

- Find jewellery that will move as you walk to create a dramatic effect but most importantly pick pieces that you love and enjoy wearing.
---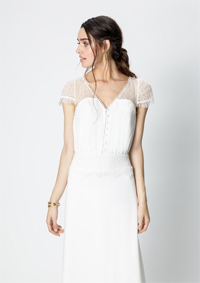 Second time around
Q. I'm an older bride about to celebrate my second marriage. Do you have any suggestions of what style dresses I should look for?
A. Melanie Fox says: Focus on your personal style, what suits you and what you feel comfortable in. Ideally you should go to your wedding feeling like a more polished version of yourself. Think about dress shapes you feel good in and that flatter your figure – any bridal boutique can advise on this if you are unsure. Often less is more with style, a good cut goes a long way and can be super classy with the right accessories.

Research bridal boutiques online and see if their style/vibe feels right before making an appointment, if you do this correctly then you shouldn't need to visit more than three boutiques before you find the one.
---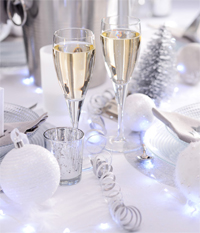 A winter wonderland
Q. We're having a winter wedding at a grand manor house and have no idea how to decorate it. Do you have any suggestions?
A. Samantha Furmston says: - To create a winter wonderland, I suggest you invest in a white aisle runner and line it with tall manzanita trees.

- For the registrars table I'd place a silver table cloth and a selection of crystal and glass vases with candle holders.

- For your chairs, I'd go simple with white covers with silver or blue organza wrapped around them. Alternatively, you could use the same colours in chair hoods, ruffles or table sashes.

- For your reception I'd cover the tables in sequin cloths and move your manzanita trees from the ceremony and use them as your centrepieces.

- For your table plan you could opt for something unusual and decorate a Christmas tree with baubles and your seating cards.

- Take inspiration from Pippa Middleton's wedding by including artificial blossom trees. Place these on a white podium and have lights weaved in-between the branches.
---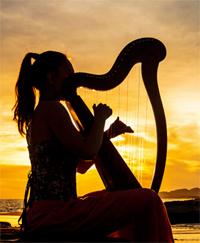 Wow that's entertainment
Q. We'd love to include a harpist on our big day. We're having our wedding in our local church followed by a drinks reception outside, can the harp be moved to play in both locations and is there anything we need to take into consideration?
A. Sarah Davies says: Harps are surprisingly portable and can be moved to different parts of any venue. It always helps for the musician to know if there are any steps or uneven surfaces in advance before moving the instrument.

- One of the great benefits of hiring a harpist to play in a church is the amazing sound that the acoustics will produce.

- If you want the instrument to be used outside, amplification may be needed so it's important the harpist knows what connections are available.
---
Contact our experts...
---