Ask the experts
Here is a selection of Q&As from Your North West Wedding magazine. If you would like your question answered by our experts, please email it to editor@yournorthwest.wedding.
To view more Q&A's on a different topic, please select one from the list below.
Hot topic: Wedding worries
Our experts solve your problems
---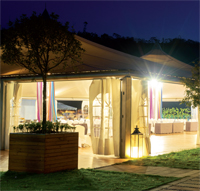 The wow factor
Q. We're having a fairytale-themed wedding outside in a marquee and we want everything to look magical. Do you have any suggestions of how we can decorate it?
A. Stephen Alty says: Elaborate entrances are a big trend this year and using festive lights to illuminate the marquee walkway will create a magical atmosphere for when your guests arrive.

- Draping strings of festoon lights to create a canopy effect looks spectacular.

- In a woodland setting, place lights in trees for an enchanted forest aesthetic.

- Warm white festoon bulbs will create a retro look that will contrast beautifully with the rustic elements of the marquee.

- Creating a vertical impact is important to emphasise the ceiling height and gives a sense of space. Chandeliers or suspended lighting are a simple way of doing this and the neutral background of the marquee will highlight them perfectly.

- Battery powered wire lights among the floral arrangements is also very popular with wedding stylists as a glamorous, yet affordable way of adding sparkle to the centrepieces.

- You could also place wire lights inside Mason jars to create a whimsical focal point on tables, suspended from trees or used to illuminate pathways.
---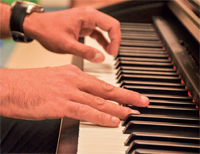 A diverse performance
Q. We're having a large wedding with guests of all ages. What style of music would you suggest we have to please everyone?
A. Craig Smith says: If you're having a wedding with guests from different age groups, I would say your best bet would be to include a mixture of styles and eras. Most musicians should be able to offer a variety of music to suit your tastes. I would look for someone who's happy to provide you with a set list but is still willing to include your requests.

Consider hiring a singer, or lead musician who will work with an accompanying performer, rather than using backing tracks. Live performances give you a consistent and lively atmosphere, which will help the range of styles fit together.
---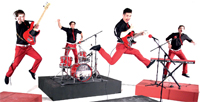 An outdoor celebration
Q. After the ceremony, the rest of the day is taking place in the venue's ground – weather permitting – and we'd really like our band to perform outside, what things should we take into consideration?
A. Yew Han Baker says: The first thing I'd suggest is to make sure you have a back-up plan for if the weather isn't good. For most venues this normally means your reception will be held in the room you had your wedding breakfast, but check with your venue first. As the weather can be unpredictable, it would be wise to have a marquee stage area just in case it's slightly wet for some of the day but there isn't enough room to move inside.

If you're having a party band who would be performing until around midnight, I'd think carefully about how cold it might get as the British weather doesn't tend to stay warm until those hours. If it gets too cold, your guests will end up going inside and the band will be playing to an empty courtyard!

I'd also consider having an outside bar, depending on the location of the bar at the venue. The best parties are where everyone is in one place. If you separate the activities into different locations during the evening your guests may tend to separate. The band's job is to keep everyone dancing and that's much harder if it's a five-minute walk to get a drink! Lastly, make sure there's relatively easy access to power as lots of extension cables may be required.
---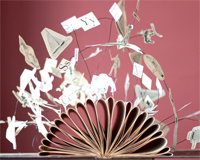 A personal touch
Q. We want our wedding to be unique and have show-stopping decorations. Do you have any suggestions?
A. Kate Freeborough says: The best way to guarantee a unique wedding is by personalising it.

- Take inspiration from your hobbies, the places you've travelled, your favourite films, books or even superheroes.

- To create bespoke decorations you could hire a professional artist or florist to make your statement pieces. Alternatively, you could make them yourself. As scary as this might sound, it's actually very achievable. Start with your interests and build your ideas from there.

- You could have book sculptures created from your bouquet, have comic book paper flowers or incorporate a collection of photos, souvenirs and postcards from your travels.

- If you're worried about time, share the workload with regular craft evenings by inviting your friends and family round to help you create your decorations. If this still sounds daunting there are lots of online tutorials and face-to-face workshops you could sign up for.
---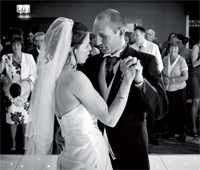 Memories for a lifetime
Q. My hubby-to-be and I are worried about having our pictures taken on our big day. We're not the best posers but would love a few snaps in the venue's gorgeous grounds, which will look stunning during our summer nuptials. What would you suggest we do?
A. Alex Harrison says: Firstly, relax and don't worry! Pick an experienced photographer and make sure you feel relaxed around them. Insist on a pre-wedding photo shoot at your venue as this will allow you to get an idea of your photographer's style and they will be able to give you tips on how to pose. Most of your nerves and worries will vanish and you'll be able to enjoy your big day so much more!
---
Contact our experts...
Alex Harrison
Photographer
Kate Freeborough
DIY weddings specialist
Stephen Alty
Festive Lights
Yew Han Baker
Band member
---