Ask the experts
Here is a selection of Q&As from Your North West Wedding magazine. If you would like your question answered by our experts, please email it to editor@yournorthwest.wedding.
To view more Q&A's on a different topic, please select one from the list below.
Hot topic: Wedding themes
Our experts solve your problems
---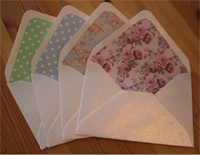 Spring fever
Q. We're having a spring-themed wedding and want to incorporate the season's colours into our stationery. Do you have any suggestions on how we can achieve this?
A. Claire Louise Fox says: With so many flowers being in bloom in spring it's a lovely time of year to get married. There's an array of colours to choose from that you can incorporate into your wedding invitations from pastels to vivid yellows. Here are my top tips on how to incorporate the shade of your choice:

- Ribbon is a great way to add a splash of brightness to your stationery as it comes in nearly every shade you can imagine. So why not add a bow or a simple strip to your invitations?

- Resin or paper flower embellishments are an effective way of adding colour to your invite. You could even add a bit of sparkle using mini diamantés in-keeping with your chosen scheme.

- Patterned papers can be used in a variety of ways to add hues to your stationery. You could use them for bunting, which is popular in spring or to add a viabrant border.

Try floral or pastel papers to bring a seasonal feel to your invitation – you could even line your envelopes!
---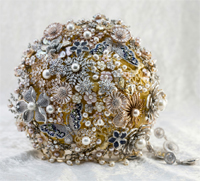 The wow factor
Q. We're having a glitz and glam-themed big day and really want everything to sparkle. Do you have any suggestions on how I can incorporate our theme into my bouquet?
A. Modina Khanom says: There's no better way to add a bit of glitz to your wedding than a crystal brooch bouquet. Here at Elegant Crystal Bouquets, each bouquet is lovingly hand-crafted in order to create showstopping designs that reflect the bride's style, personality and theme. By choosing a crystal bouquet it's completely bespoke, each piece is tailored to, providing a unique product that you can cherish for years to come.
---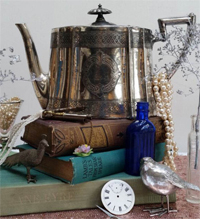 Vintage vows
Q. We're having a vintage-themed wedding but are on a tight budget. Do you have any suggestions on how we can achieve this without over spending?
A. Janet Wilde says: The vintage theme has become very popular in the last few years, it may be best to hone in on the things you like the best, be it an era, style or even a favourite book or hobby. Go to car boots sales, auctions and reclamation yards and look around charity shops for items that fit in with your theme. It can be easy to get caught up in the moment and buy items that you don't really need, especially at an auction, so remember to stay focused! My other top tips are:

- Vintage products are available to buy on Facebook, Instagram, eBay and sites such as Etsy.

- Start collecting objects as early as you can, so that you can spread the cost over a period of time.

- Ask your friends and family for what they may be prepared to lend you, such as vintage china tea sets, furniture, old books, costume jewellery and ornaments, these will also add a sentimental touch to your wedding.

- The beauty of a vintage theme is that the mismatched look can still be beautiful, so don't be afraid to use a variety of products.

- Flowers and candles help to give an opulent feel, so look out for different types of vintage candlesticks. You can even put floating candles in vintage glasses, tea cups or china bowls. Try experimenting with flowers, in decanters and old medicine bottles – not many blooms are needed to make a strong impact so you won't have to spend lots of money.

- With vintage being such a popular theme, items are more expensive than they used to be so it's often cheaper to hire instead. If you decide to buy, you have to find a place to store the items before the wedding and then dispose of them afterwards.
---
A grand affair
Q. My hubby-to-be and I are having a grand wedding and want everything to feel luxurious. We're having a few musicians perform but I really want to include a harp. Do you have any suggestions on how we can incorporate one into our big day?
A. Sarah Davies says: The harp is the perfect music choice for a wedding, it fits well into different aspects of the day and sets the mood for such a special occasion.

The exciting thing about the harp is you can perform different types of music from popular classics to current hits. The harp creates the perfect ambience for the ceremony whether it's in the church or hotel. It's lovely background music and always works well during the drinks reception and the wedding breakfast as it appeals from ages five to 85!

Make sure you talk to your harpist to discuss your music choices so that you get the luxurious feel that you want for your day.
---
Contact our experts...
Claire Louise Fox
Stationer
Janet Wilde
Vintage china, props and furniture
Modina Khanom
Bouquet specialist
---