Ask the experts
Here is a selection of Q&As from Your North West Wedding magazine. If you would like your question answered by our experts, please email it to editor@yournorthwest.wedding.
To view more Q&A's on a different topic, please select one from the list below.
Hot topic: Autumn/winter
Saying 'I do' in the cooler months? Local experts offer their advice for seasonal styling
---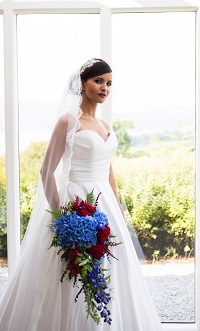 Capture the season
Q. We're marrying in November and would like some snaps both inside and outside our venue, without us looking cold. But I don't want to wear a coat or cover up as this will hide my gorgeous dress. What sort of shots do you suggest?
A. Arusha Jenks says: There are so many options for beautiful wedding images all through the year. If you're worried about being a little chilly then choosing areas outside that are less exposed can be a good idea, so if there's a breeze you'll be protected. For example, using a courtyard, walking under trees and posing in doorways is lovely, especially in low light. You can have gorgeous intimate images with your new husband holding you close to keep you warm. If you're hiring a big-day car or other transport, you can make the most of of it by getting some images in your chosen chariot. For brides with a long dress, why not wear boots underneath? Nobody needs to know, or you could get some stylish ones and make them a feature. You may also be surprised at how warm you are with the adrenaline of the day!

Inside, I love using window light, while staircases and fires make stunning and timeless backgrounds for winter weddings. Maybe have some candles lit to add to the romance of the lighting – and keep you warm, too? You could even have some photographs together in your bridal suite if you're staying at your venue.
---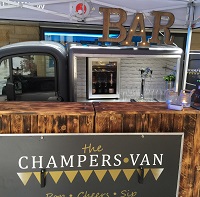 Bubbling with excitement
Q. Though we know not everyone feels the same, my husband-to-be and I love being outside on crisp, chilly days – wrapped up warm, of course – and we'd love part of our day to be al fresco even though it's in autumn. We're thinking of hosting post-vows drinks outside before heading indoors for a hearty meal. What do you suggest we book to impress our guests?
A. Jayne Golden says: Traditionally the wedding party and their guests will congratulate the happy couple with a glass of bubbly after the ceremony. If the thought of a boring trestle table, draped in a white tablecloth with rows of mildly fizzing flutes doesn't inspire you then why not create the perfect centrepiece to get your guests talking?

Consider hiring a service like The Champers Van mobile event bar to start your wedding celebration in style with bubbly flowing on tap. It's a quirky and stylish bar on wheels that can literally pull up at any venue and serve champagne that's chilled to perfection and with maximum fizz in every single glass. Whether it's a hot summer's day or a crisp winter's evening, the event staff will greet your guests and ensure they're kept topped up until you're ready to be seated for your wedding breakfast.
---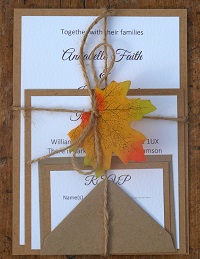 A warm invitation
Q. Our wedding is going to have an autumnal theme to reflect our favourite time of year. We'd like our stationery to incorporate elements of this season to give a flavour of our day – how do you advise we achieve this?
A. Claire Louise Fox says: What I love about autumn is the array of rich warm colours from the fallen leaves and all the harvest products of the season. It's also the time of year you can start to feel warm and cosy by the log fire.

There are many ways to incorporate elements of this season into your wedding stationery. Some brides will love a natural rustic look, which lends itself well to an autumnal theme. I'd choose to use natural elements like hessian, twine, wooden embellishments or maybe the odd autumn leaf. However, just because autumn is your theme it doesn't mean rustic is the only way, though very popular. Just by incorporating rich warm colours of reds, browns, oranges, creams and even golds through the use of card, ribbon, lace and pearls, it can bring a more luxurious autumnal theme to your stationery. Fireworks are a big highlight of the season so why not add an element of sparkle to your design too?
---
Everything's cosy
Q. We'd love our October 2017 nuptials to be a warm, rustic celebration with an autumnal colour palette. What do you suggest we incorporate into the styling to create our dream setting?
A. Rosie Orgles says: Our gorgeous real wedding couple this issue, Rebecca and Alex, showcase their stunning autumnal styling – from dried flowers to natural, wooden touches. But there are so many other ways you can create a romantic, rustic setting for your celebration. Here are a few of CWM's faves...

- Lining your aisle with twinkling tea lights displayed in decorative jars – oh-so romantic!
- Use of fir cones, log slices and even conkers in your table centrepieces.
- Guests creating an archway out of sparklers for the new Mr & Mrs to walk beneath – fab photos and lots of fun!
- A basket of blankets and brollies to keep loved ones warm and dry all day.
- Add a pop of colour with a pumpkin or two if you're marrying around Halloween – carved and lit, they're very atmospheric.
---
Contact our experts...
Arusha Jenks
Photographer
Claire Louise Fox
Stationer
Jayne Golden
Champagne van provider
---