Ask the experts
Here is a selection of Q&As from Your North West Wedding magazine. If you would like your question answered by our experts, please email it to editor@yournorthwest.wedding.
To view more Q&A's on a different topic, please select one from the list below.
Hot topic: Answering your SOS
Our experts are on hand to solve your queries
---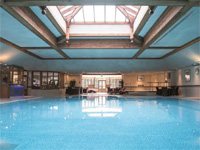 And relax!
Q. My mum has been working so hard to help me create the perfect day and I'm sure she's feeling the stress as much as I am – we're both looking pretty run down. We're a few weeks away from the big day and I was hoping we could kill two birds with one stone: we need some serious time out for pampering as well as something that will bring the glow back to our skin! Can you help?
A. Rachel Bevan says: The weeks leading up to a wedding can be absolute madness so why not give yourself and your mum a treatment that will not only leave your skin radiant, but will also help you relax and unwind? Our Just Results spa day is ideal for a stressed bride and her mum. Our Natura Bisse brand comprises results-driven products and bespoke treatments to help you unwind and leave the spa with glowing skin. Included in the spa day is a beautiful body wrap treatment to help detox the body and a Vitamin C facial which creates instant, radiant results. You also have the luxury of using our extensive spa facilities and enjoying a two-course lunch during your day.

The treatment: Just Results – 1hr 50 minutes If you're looking for a spa day that delivers immediate results for your skin, then Natura Bisse Spa Day is the perfect option for you. Start your day with an energetic workout in the gym, or simply spend some time relaxing in the pool, whirlpool and heat experiences, before your Detox Marine Essence body wrap, tailored to either skin cleansing, cellulite reduction or skin firming. Once you've had some time to relax and unwind post treatment, enjoy a two-course light lunch before completing your spa day with a Vitamin C boosting antioxidant facial, stimulating collagen production and renewing skin firmness.
---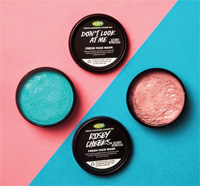 Don't mask the issue
Q. I have dry and oily skin on my face and nothing I try seems to work. How can I solve this problem before the wedding or at least look more make-up ready?
A. Ivana Sidey says: There's a hot trend around at the moment that sounds ideal for you – it's called multimasking. This is where you use a combination of face masks for the specific areas and it often leaves you with a multi-coloured complexion for a good 10 minutes!

This is a great new trick that really works because a number of us have combination skin whereby our forehead is oily and our cheeks are dry and even our chin has acne – I could go on. For this reason just using one mask doesn't always work and, unsurprisingly, it actually hides the problem. There are some great products in Lush and a real variety all under one roof. Best of all it's all natural – a fact I think your skin will really thank you for, and they're fairly inexpensive so your purse will be grateful too.
---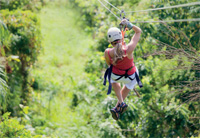 Adventurous chicks
Q. I'm the maid-of-honour at my sister's wedding and want to arrange something special for her hen party. I don't want to do the usual night out on the town – we can do that anytime. Have you got any ideas for a couple of adventurous Lancashire lasses?
A. Alexandra North says: Night's out are great, but you're right – you can do that anytime with your sis. A hen party doesn't always have to be about L plates and buckets of mojitos – though there's a time and place for them too. Being Lancashire-based you're in the perfect spot for some amazing experiences, so instead of getting the willy straws out, get your wellies on, because you're going on an adventure!

Where better to have a hen party to remember than in the gorgeous Lake District? For somewhere to stay, check out The Coppermines Lake Cottages (www.coppermines.co.uk) as they have a number of large properties that can be interlinked in case you're taking a large group. They can sleep anywhere between eight and 22 guests. They've got fab dining areas and some of them even have private hot tubs! Staying here means you've got a handy base to get out for some adventure. The Coppermines website has lots of inspiring ideas for action, from treetop treks to potholing and all manner of watersports. Personally, I love the Go Ape adventure at Grizedale Forest – it really pulls you together, is lots of fun (especially when a few of your girls start screeching with fear) and when you come sliding down the zip wire, you feel exhilarated and like you've achieved something special – together. If you prefer keeping your feet (almost) on the ground then Lakeland Segway is for you – checking out the beautiful countryside surrounding Cartmel Racecourse and the Holker Estate on wheels – it's a blast! And after all the adventure, you can still go out for some drinks in the gorgeous local pubs, have a refined afternoon tea or get some pampering at a luxury spa. See? You can have your cake and eat it!
---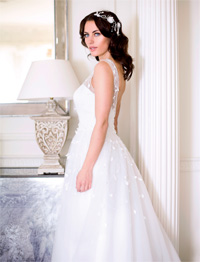 Get the look
Q. CWM says: We love this issue's cover look so much and we know it's a style lots of you will want to achieve for your own big day, so we caught up with the local makeup artist behind this gorgeous look, Ariana Rose, to find out just how she did it...
A. Ariana Rose says: My signature style is to give all my brides flawless glowing skin so I used this as a base to create this look for the model. I started with cleansing the skin and prepping it with moisturiser, skin elixir and a good primer. Skin preparation is essential to get long-lasting make-up and my brides find their make-up lasts morning to night with minimal touch ups.

I moved on to eye make-up, using the MAC Neutral palette to make Anna's eyes pop and I find soft brown smokey eye make-up does this and is very complimentary to any skin tone or eye colour. I lined the eyes with subtle black liner and applied natural hair lashes by Eldora, which are great for a more natural look. I completed the eyes with a light coat of mascara.

Moving on to the skin, I used the NARS sheer glow foundation, I love the coverage this foundation gives as it is buildable and does not give a heavy look. I set this with Laura Mercier translucent powder and then contoured the cheeks softly with Anastasia Beverly Hills cream contour. I prefer using a cream contour on brides as I find it blends in well giving just the right amount of definition. I highlighted with NARS as this really sets off the make-up perfectly.

I used a very natural lipliner to line Anna's lips before filling in with a soft pink lipstick. I completed the look with my kit must, a setting spray.
---
Contact our experts...

Alexandra North
Editor-in-Chief

Ariana Rose
Make-up artist

Ivana Sidey
Beauty Editor

Rachel Bevan
Spa treatments manager
---